I bought the much hyped Lovevery Block Set to answer the question: is it worth it? Find out what I thought in this post!
Disclosure: I was compensated to write this post. Lovevery invited me to write a post mentioning Lovevery product(s) of my choice in exchange for monetary compensation. I purchased the Lovevery Block Set and other Lovevery products mentioned in this article myself, and did not receive a discount on the block set or other products listed. All thoughts and opinions expressed in this post are my own.
This Ain't Your Grandma's Block Set
A great set of blocks is one of those classic childhood toys that most kids play with at some point or another. If I had to guess, I'd bet many of today's parents have childhood memories of long afternoons spent building different creations with a good block set.
For me, wooden blocks come with a side of nostalgia from my own childhood. But let's get one thing straight: the Lovevery block set is not your childhood block set.
In fact, it might just be the most comprehensive block set ever designed…like 10+ toys in one, good for kids 18 months to kindergarten…and beyond.
Key Takeaways of this Lovevery Block Set Review (the TLDR)
The Lovevery Blocks have a lot of pros. They are non-toxic, sustainable, and very high quality, and are far more comprehensive than normal blocks, serving as a shape sorter, pull toy, threading toy, and building block toy, all-in-one, plus more. They come in their own storage box, and are awesome overall.
The biggest con is the price, and whether you see value for the price given you're getting many toys in one, they tend to hold their value for re-sale, and they should last a long time.
I think these blocks are a good buy for families who prioritize fewer, better quality toys, have young children (not yet in kindergarten) who will get years of use from it, and who value the Play Guide and research that has gone into the toy's development.
I think these blocks might not be worth it for families with older children (Kindergarten and above) and those who are on a tight budget at the moment.
Check it Out! You can buy the Block Set via Lovevery's website
Why Playing with Blocks is Good for Kids
We know kids love playing with block sets. They present a fun challenge, and are an accessible way to spark our imaginations, even into adulthood.
But beyond being fun, playing with blocks is good for kids, too.
A good block set is one of those "learning through play" toys that can help support a child's growth and development and support the development and reinforcement of early concepts that are predictive of academic success and emotional self-regulation later in life.
And they can offer specific benefits related to building spatial awareness, fine motor skills (and gross motor skills too, depending on how you play with them), and language and problem solving skills.
They're a kind of open-ended toy that can be used for active play, imaginative play, STEM focused play, and more.
And they can become a cornerstone toy in your home for years to come, making it worth it to invest in a high quality and comprehensive block set that's going to work for the variety of ages and stages your kids go through.
What is Lovevery (And How Do You Pronounce it)?
Lovevery a youthful brand (kind of like your family).
Founded in 2015 by Jessica and Rod – parents from two different families – Lovevery was inspired by the idea that exposing kids to different concepts and situations at the right time can help them build richer, more connected neural networks within the first 3 years of life.
There are a couple of things that make Lovevery unique, in my mind.
First is their team of key advisors. The company uses the expertise of researchers, academics, and early childhood practitioners to develop their products and play guides.
Secondly, is the Lovevery stage based activity guide, which comes with the block set, as well as with every Play Kit and also the Play Gym (you can read my unsponsored review of the Play Gym here).
These guides are pure gold for parents, helping us create rich play experiences for our kids – in the right way at the right time – to support their development. Without having to do all the research ourselves.
And BTW: it's pronounced Love-Every!
What is the Lovevery Block Set? And What's Included?
Lovevery is probably best known for its Play Kits, so if this is your first time coming across the block set, get ready.
It's very thoughtfully designed, with every piece having a function (or multiple functions) which allows it to be much more comprehensive than your average block set.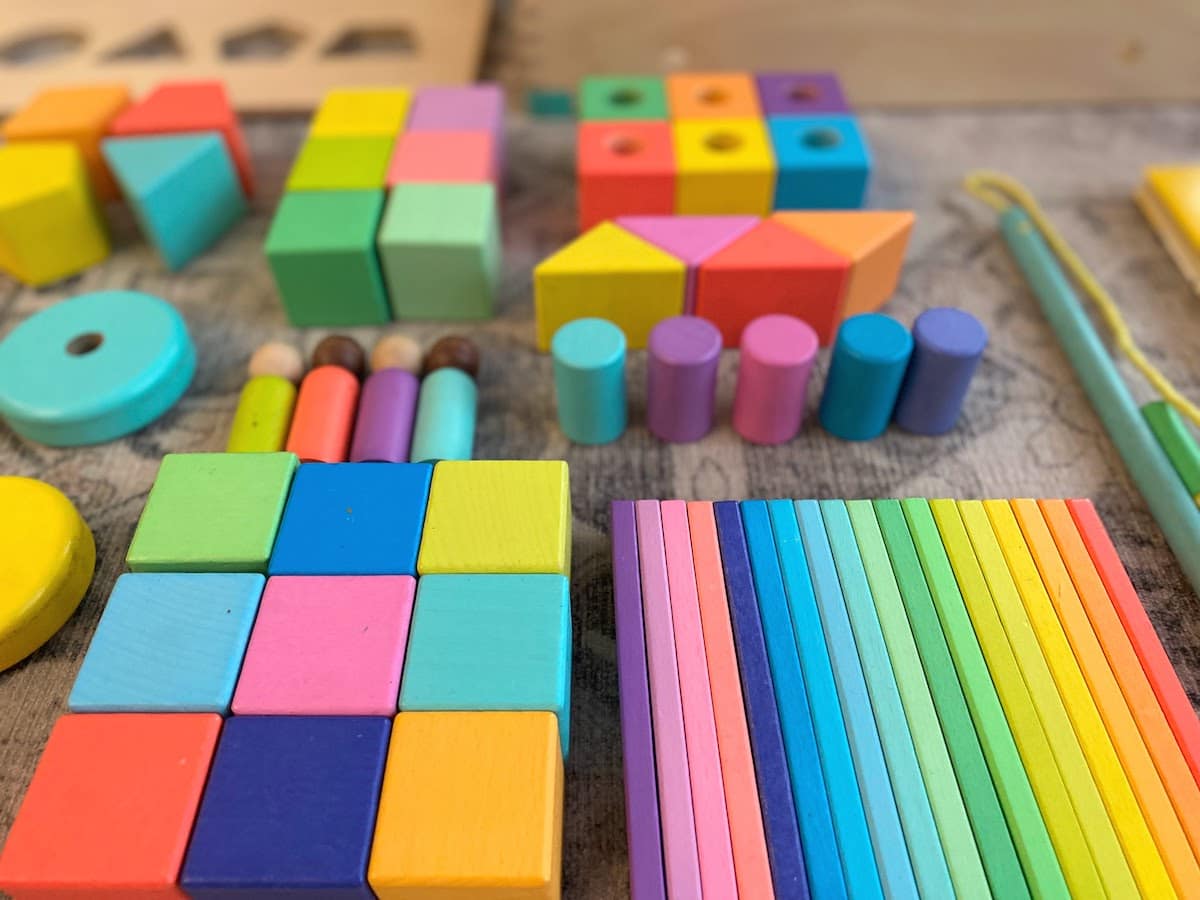 What's Included
The Lovevery block set consists of 70 wood pieces, comprised of 18 different shapes and tools, all in 18 different colors
These include:
15 solid wood blocks
6 thread blocks
1 threader string
4 right triangles
2 arches
4 wheels
2 dowels
5 shape sorter blocks
1 shape sorter lid
5 solid wood cylinders
4 wooden peg people
18 solid wood building planks
A ramp
A stage based activity guide
A wood storage box (that can convert into a car!)
All the pieces are made from sustainably harvested and sustainably sourced wood that is FSC certified.
And they're a beautiful rainbow of colors.
Lovevery Block Set Unboxing
The Lovevery block set arrives to your door in a wooden storage box contained within a cardboard box, with the Play Guide tucked in on top.
The wooden storage box has a shape sorter lid. Usually shape sorters are separate toys entirely, which is the first hint that this is more comprehensive than a typical block set!
Within the box, there are two layers. The top layer is separated by the ramp used like a shelf, with the bottom layer of blocks under the ramp.
Lovevery blocks are shipped with a cotton storage bag for the blocks – but our cotton storage bag disappeared long ago, so it's not pictured in this post.
Lovevery Block Set Age Range
Lovevery lists the age range for their block set as 10 months to 48 months (4 years old) and up.
In my experience, the "and up" is the key here, because my 4-year-old still finds different things to do with these blocks, and I can't really see her outgrowing them in the next couple of years.
She uses them on their own for building and making up games, but also brings in other toys – like Playmobil people, Hot Wheels cars, and toys from our Play Kits – to supplement to create little social stories.
My Lovevery Block Set Review Based on Personal Experience
So what's good about the Lovevery Block Set, and what don't I love? See below for my general Lovevery block set review, going over the pros and cons, plus my thoughts more broadly.
Pros and Cons of the Lovevery Wooden Blocks
My Thoughts on the Lovevery Block Set
It Offers Free Play And Adult Directed Play…That's Screen Free And Noise Free
Wooden blocks are a great example of toy that can be used in both free play and adult-participation play:
"Play is an important activity in young children's lives. It is how children explore their world and build knowledge. Although free play, which is play that is totally child directed, contributes to children's learning, self-regulation and motivation, adults' participation in children's play is critical in their development, especially their language development." (source)
What I like about the Lovevery blocks in particular (and Lovevery toys more generally) is how the Play Guides help adults get involved in a research-based way to help support child development.
So this is a great toy for child-led play, and for playing with grown ups.
It's Several Toys In One
Whereas most wooden block sets are just that – block sets – the Lovevery set is several toys in one.
The flat wooden planks can be used for building, but also to set up dominos.
The toggle and threading beads can be used as a threading toy.
The shape sorter lid can be used as a shape sorter.
The dowels can be banged together or against the wooden box as a drum.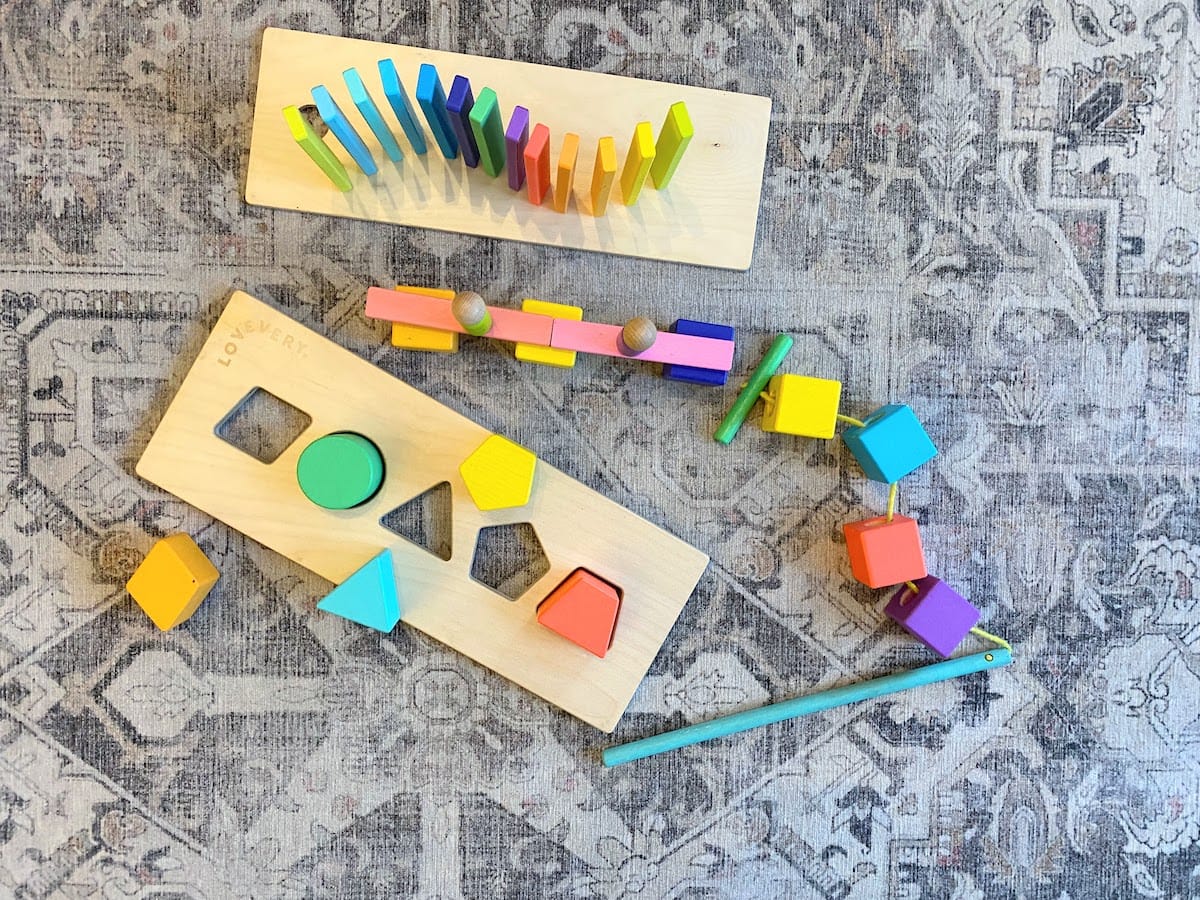 And the wooden storage box can be set up as a car!
That's 5 different toys in one, not including the main playing function: wooden blocks.
While the cost of these blocks is a commonly mentioned con (which I get!), when you add up the cost of a separate threading toy, shape sorter, and wooden blocks set, the cost of the Lovevery set feels more in line with what I'd expect.
You Can Use Them In So Many Different Ways
There are the "intended" ways of playing with the Lovevery blocks, which are great! I.e. with the shape sorter, your child can put the 5 assorted solid wood shapes in the shape sorter lid.
But they also allow for a lot of imagination!
One of our favorite games to play currently is a wheel rolling race. The Lovevery wooden blocks come with 4 wooden wheels that can be attached to the dowels using the built in magnets. We have quite a bit of fun just trying to roll the wheels on our living room floor, trying to either hit a target or have the wheel that rolls the furthest before falling down.
The wooden dowels are also great for banging together to make different rhythms, either when listening to music or making your own. My child is randomly obsessed with "We Will Rock You" by Queen, and she frequently uses the wooden dowels to recreate the "boom-boom-clap" rhythm of that song.
Your family will likely come up with your own made up games for this set of blocks, too. And it's really a case of, your imagination is the limit!
Sustainable And Non Toxic
This is a big one for me, as we do try our best to minimize our environmental impact where we can. I like that this toy is made from sustainably sourced wood and uses non toxic dyes, paint and finishes.
They Are Well Made And Should Last A Long Time Last
Lovevery describes their wooden blocks as "heirloom quality," which is part of their sustainability pledge: making toys that will last generations.
Our blocks definitely have some scratches here and there, but are holding up remarkably well, and I can see how they can be passed from child to child over the years and still hold up.
They Hold Their Value
In my experience, this is true of all things Lovevery, at least in my market. There is always some lightly used Lovevery for sale on used marketplaces, and it seems people are able to re-coup a fairly good chunk of the purchase price when re-selling. Where I live, I've observed used Lovevery products seem to sell fast.
The Box Is Actually Great
I've owned all of the Lovevery first year Play Kits, these blocks, and the Play Gym, and one thing I've noticed about Lovevery is their products are consistently more impressive in person than they seem online.
Every time I buy one of their products, I find myself pleasantly surprised by something (or many things) when I actually get to touch them, feel them, and play with them as opposed to just look at them on a screen.
With the block set, the box is one of those "pleasantly surprised" moments – being able to turn it into a car, turn it into a house, use it with a ramp…it's a subtle thing, but makes a huge difference in all the different ways you can play with these blocks!
It's Fun to Combine with Toys from the Play Kits
We have all 6 of the Lovevery "first year" play kits, which means we have a ton of extra toys that work really well in combination with the Lovevery block set.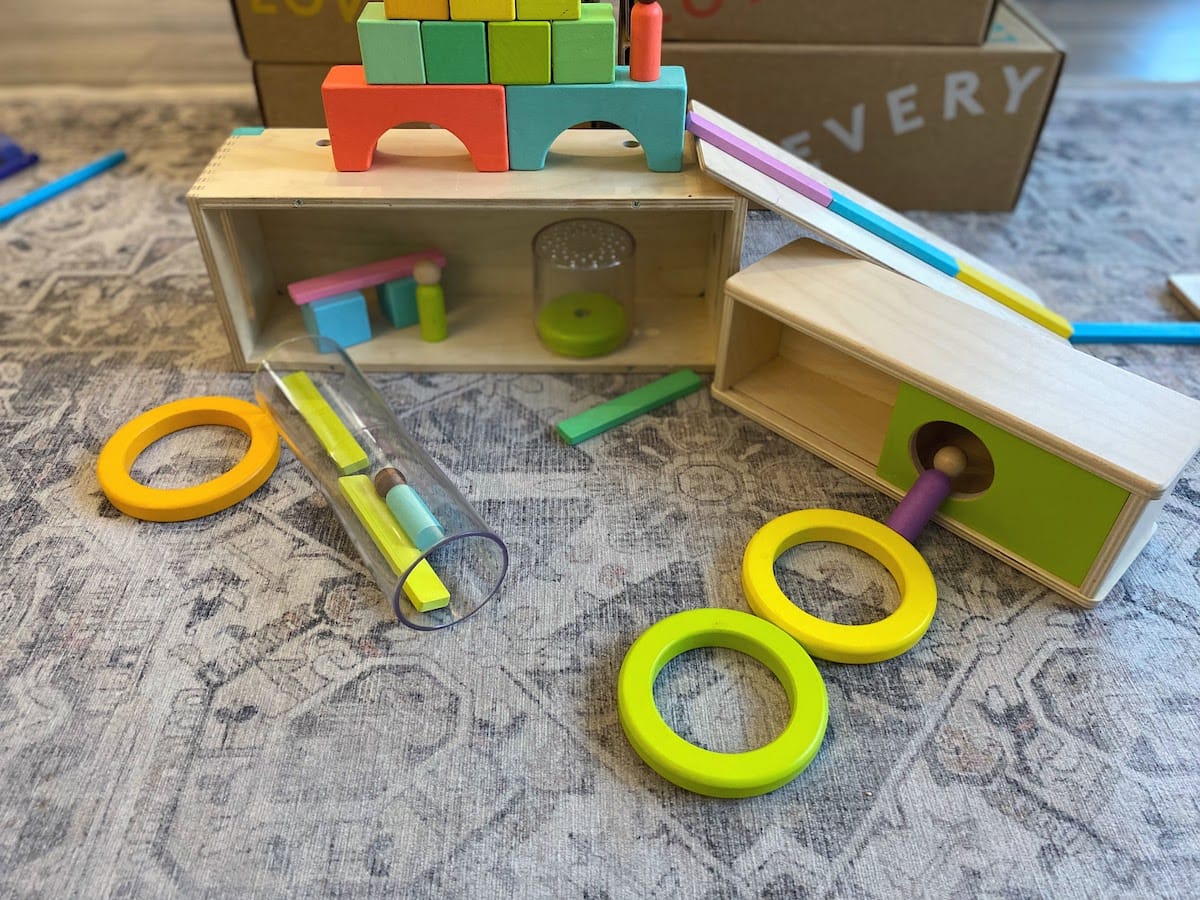 Lovevery Block Set vs. Generic Solid Wood Building Blocks
There's no shortage of generic wooden building blocks available in stores and online, so what's the difference between Lovevery blocks and generic, and is it worth the extra cost for the Lovevery version?
With all of the products I've tried from Lovevery so far, the devil is in the details. In my opinion, the company nails it when it comes to delivering some of the most versatile, interesting and quality toys for babies and kids out there.
However, whether it's worth buying the Lovevery Building Blocks – with all their clever and unique features – vs some generic wood blocks, really depends on your family. I've tried to summarize my thoughts on this below.
Lovevery Blocks Are Probably Worth It If…
Lovevery Blocks Probably Aren't Worth It If…
FAQS About the Lovevery Block Set
How to Put Away Lovevery Block Set?
Putting away the Lovevery Block set in the wooden storage box is a bit tricky, but once you get the hang of it, you should be able to do it quickly.

The bottom layer should contain: all the wooden planks, stacked on top of each other in two layers with 9 planks each; 12 of the building blocks; both arches, placed so they make an open circle in between them; with two of the wheels stacked in the open circle.

Place the ramp on top of the bottom layer, and then fill the top layer with the remaining blocks as pictured in the images below.

If you get stuck, consult the Play Guide!
Final Thoughts on My Lovevery Solid Wood Blocks Review
Personally, I love our Lovevery Block set, and while it was certainly hard to swallow the price when I bought them, I do think they're excellent value, and will recommend them to friends and family with kids without hesitation.