How to create an outdoor mud kitchen for your child. Best mud kitchen ideas for messy play, imagination, and fun!
An outdoor mud kitchen is a place for your child's imagination to soar! Created especially for messy play, an outdoor kitchen for kids encourages sensory play, pretend play, and role play.
Plus it keeps them busy for hours!
If you need some mud kitchen ideas, keep reading: this post is full of mud kitchen ideas, including DIY pallet kitchens, where to find a mud kitchen for sale, and how to build an outdoor mud kitchen for your child.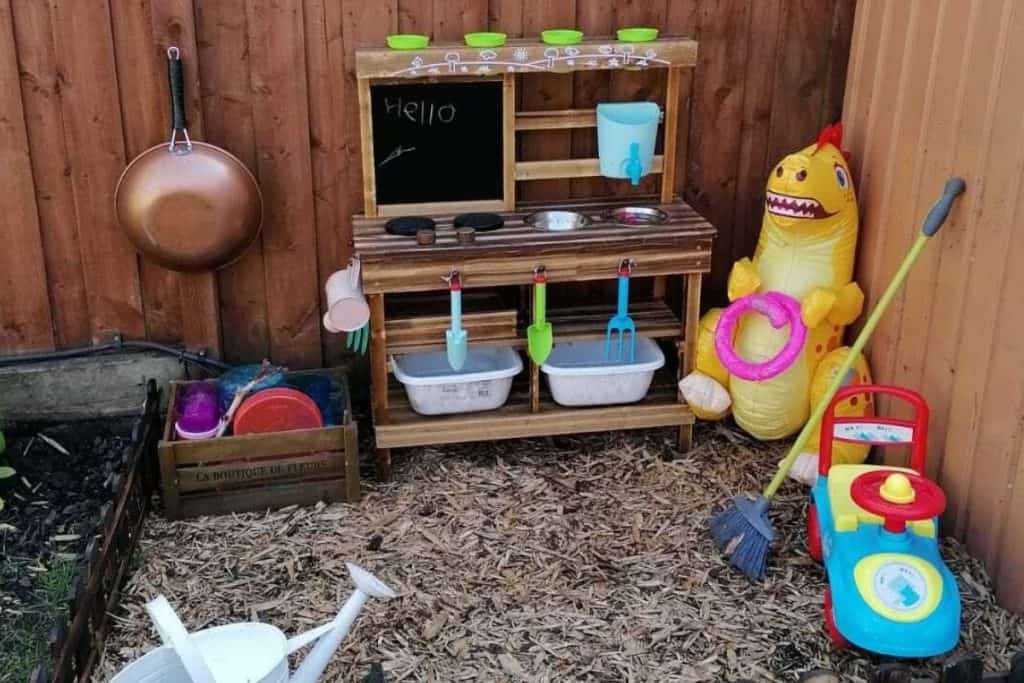 Outdoor Kitchens for Kids Are So Much Fun!
Kids love getting outside in the garden or yard, and playing in a mud kitchen is an incredible way to have endless hours of imaginative learning fun.
I first discovered the concept of a mud kitchen or mud pie kitchen when I was an early years teacher.
We devoted a corner of our outdoor learning space to create a DIY childrens kitchen: a whole area for our students to explore and have fun, making messy concoctions! We stocked it with old kitchen gear to create a mud pie kitchen set, and set them free to create.
It was a favorite, both with our little learners, who loved muddy playing, baking and mixing dirt with their whisks and spoon, but also for the teachers.
A kids outdoor kitchen is a great way to encourage kids to develop all kinds of investigation, knowledge, and skills. It helped with language development, number skills, motor skills, and creativity. When you think about it, it's kind of amazing how much learning can be done through mud play.
These days, kids mud kitchens are growing in popularity.
In this post, I'll share my best mud kitchen ideas developed from my time as an early years teacher.
I'll also share some pre-made mud kitchens you can buy online, as well as ideas for making a DIY kids kitchen outdoors, using pallets, wood, and found objects.
What is a Mud Kitchen? A Kitchen for Mud Pies!
Simply put, a mud kitchen is a pretend play and role play area with a kitchen theme, that is designed to be set up and played with outside in your garden or yard. Your child can use their mud kitchen and their imagination to make all sorts of muddy delights!
Mud kitchens can be either home built, with plenty of design inspiration for a DIY mud kitchens available online, or you can buy one ready-made.
All you need is a clear patch of land – preferably with some mud and dirt nearby, and access to water to make the mud – and you can create your own mud kitchen!
What is the Benefit of a Mud Kitchen?
Pretend play is really important for the development of little minds.
Lots of preschools and daycares have role play areas for children to develop language and imagination skills, with many focusing on creative situations, such as a post office or airport.
While these are wonderful fun, role play situations focused around the theme of "home" are excellent places to start, since that's what your child is most familiar with.
Enter the mud kitchen!
A mud kitchen and its associated activities – pretend cooking, making food for you or siblings, cleaning up – should be familiar enough for your toddler to develop a narrative about what they're doing and making, and gives open-ended possibilities for play!
They can bake a menu of favorite treats from dirt and water, a feast for a princess, or food for dragons!
Fun + Learning
Kids love messy, muddy play, and in their mind, they will be just be having a great time playing with their outdoor toys.
A mud kitchen encourages imaginative play, and can support your child's learning too. Have them count their stirs for for an outdoor math activity!
As a supporting adult, question them! Ask them why they are doing what they are doing. What messy ingredients are they adding? And what they will do next?
What Age are Mud Kitchens For?
Little ones can begin exploring a mud kitchen when they are able to toddle around. They will love stirring, mixing, and splashing in the sink. (Just be aware if you build your own from pallets, that you check for any rough edges or splinters!)
But even older kids love mud kitchens too. There was many a time that older children would come to visit our early year's classroom and would have more fun than the littlest ones in the mud kitchen.
This toy will last through the year, with older siblings enjoying it too.
By playing alongside little brothers or sisters, they will naturally model language and turn-taking skills through their play that younger ones will pick up on.
How to Make a Mud Kitchen for Your Kids
There are a whole bunch of mud kitchen plans available online to create your own outdoor corner for kids to enjoy outdoors. A lot of kids' outdoor kitchens are made from old wooden pallets, which can be easily acquired pretty cheaply.
Most have flat table space for chopping and working at, and a 'sink', which is often a removable bowl (so you can fill it with water) that fits into a hole in the countertop.
Styling & Accessories
A cute way to style your DIY mud kitchen is with a rustic wood appearance, with metal pans, toy bowls, utensils and other kitchen toys to finish off the look.
Add hooks to hang up toy spatulas and spoons, and try to encompass some storage space underneath the countertop to put the pots and pans in when not in use.
With a little paint and imagination, a little cupboard could also be an 'oven' to bake those delicious mud cupcakes!
Full DIY
If you are a bit handier with a toolset, you can let your imagination run wild and build a wood pallet mud play kitchen that fits your garden or yard space well. A bucket filled with water makes a good sink, and kids can begin to experiment making muddy mixtures with their hands, shovels, spoons and other toys!
Use What You Have
You can also make a kid's outdoor kitchen alongside a shed of the playhouse you already have. You can add a shelf at your child's height and use the side of the shed as the backsplash, where you can add hooks for hanging their kitchen ware, and just bring out water as needed.
There are so many kids pallet mud kitchen ideas for creative minds who want to build, but if you would prefer to buy one we have some of the best options available.
Outdoor Mud Kitchens Ideas Online
This cute mud kitchen is made from hand-sanded solid pine wood, and has two coats of non-toxic sealer to ensure it can withstand whatever your little one throws at it.
There are two removable stainless steel bins and a 4-burner stove top so siblings won't be squabbling over space.
It also has hooks and a shelf to store the pots and utensils after all of the mud menu dishes have been made!
We love the cute shelf at the top too, which your kids can proudly collect and display some wildflowers in!
The TP Junior Chef wooden two station kitchen has wet and dry activity areas, which have plenty of room for 2 children to play together. It includes an easy-to-remove splash tub sink, a starter set of stainless steel pans and a mixing whisk.
Kids will love cooking up a storm on the painted hob area with 4 hobs, and baking in the oven. It's made from FSC certified timber, for longevity even in the worst outdoor weather!
For a slight alternative, check out this Kids' Station Outdoor Mud Pie Table. This cute option features actual running water when you connect your hose pipe, which children will love!
There is a large space for playing and making a mud pie, but no real 'kitchen' features.
Although it looks wooden, this outdoor play kitchen is made from durable recycled plastic, that doesn't need to be treated for outdoor conditions and will not fade or splinter over time. This set includes a real cutting board table top and stainless steel fasteners, two sinks, and cookware to prevent rust even in the harshest conditions.
What Goes in an Outdoor Mud Kitchen?
To encourage creative play in your kids outdoor mud kitchen you need utensils, pots, and pans. You can buy these for the kitchen. Or, even better, repurpose some old ones from your home for free. And treat yourself to new ones in your real kitchen!
Stainless steel is a popular choice. It's easy to clean and won't rust when left outside in wet and rainy conditions. Or if gets left in a bucket of water overnight.
If you want mud pie kitchen ware, this stainless steel set from Amazon is great value.
You might also want to add accessories to your outdoor kitchen. A chalk board is fun to write on the menu of the day. Or a cute sign to say whose kitchen it is!
You can expand an outdoor kitchen depending on how your child plays and interacts. If they love to cook for people, turn it into a cafe. Add a table and chairs where they can present you, the customer, the dishes they have created.
You may also wish to have a vegetable patch nearby. They can grow their own food too, and then "cook" with said food!
Final Thoughts on Outdoor Play Mud Kitchens for Kids
You children will become experts on 'how to make mud pies' if they have their own muddy kitchen! By exploring and getting their hands dirty, they will have fun while developing great early skills.
Young children learn by copying what they see mom and dad do. Because of this, role-playing in the kitchen is a ton of fun.
Try creating a mud pie kitchen in your yard this summer, and see for yourself.
If you know other parents of toddlers who might want to find out about mud pie kitchens for their kids, feel free to share this article with them too!